ROC is a west coast emcee, originally from the north side of Modesto, who has been actively involved in music for many years. His melodies, reggae influence, and political awareness, as well as his willingness to rap over both gritty boom bap production and 808-heavy trap beats, has made him a prolific and unique part of Northern California's underground hip hop scene.

At age 12, he started writing raps as part of the rap duo The Officials (later called West Coast Boyz) with his friend Zak Barry. The duo stayed together for about two years, until ROC went solo and became involved in Christian hip hop, a moved that seemed fitting considering his religious upbringing. During his freshman year of high school, he began participating in rap battles and cyphers, which gained him a small local following. His 2015 solo debut The Rely on Christ EP led to him becoming the #1 artist on ReverbNation's 209 area hip hop charts. Soon after, he began performing at many concerts and outreaches throughout California.

He also managed to have his impact reach outside of the Christian hip hop scene when he released a video of him rapping to the beat of R.A. the Rugged Man's "Definition of a Rap Flow" a month before his 16th birthday. The video received over 2,000 views on Facebook.

In 2016, he released his single "All In", which became fairly popular with several church youth groups. The song also led to him being able to perform outside of California for the first time when he took first place at a youth talent expo in Phoenix. Around the same time, he released a sequel to The Rely on Christ EP, which was positively received but failed to match the success of it's predecessor. However, the previous reception of his "Definition of a Rap Flow" remix inspired him to get in the studio and officially record it. He also released an official music video, which as of 2018 has received 530 views.

​Despite continuing to perform at religious events, ROC became disillusioned with organized religion as a whole and began to distance himself from Christian hip hop, coming to the realization that he had never wanted to be a "Christian" rapper in the first place and mostly did it to gain his family's support. He has since converted to Rastafari and frequently references his faith in his music.

In 2017, he gained the attention of rapper K the Muss after releasing a remix to Earl Sweatshirt's "Hive". Although the two had met previously, they had never worked together. After agreeing to help him record his mixtape #Artist4Hire, ROC developed a close friendship with K the Muss and the two eventually co-founded the independent label Kill The Mic Records, along with fellow 209 locals Brad Thomas and Baron B. The label started to gain some traction after releasing a remix to Mobb Deep's "Hell On Earth", which was included on their collaborative mixtape Underground Overlords Vol. 1.

On May 19, 2018, ROC released his debut full-length album Relics of the Archetype, which was distributed to online stores through Kill The Mic Records and 811944 Records DK. He is currently working on another project entitled Brick By Brick EP, which is slated for release sometime in early 2019. The EP's lead single When the Beat Drops, featuring Atlanta rapper Dizzy VIBEZ, was released on September 19, 2018. Its second single Acting Crazy, which included a guest verse from fellow California native Farmed Goods, ​followed several months later on Christmas Day. The third and final single from the EP, a collaboration with New York heavyweight Mickey Factz entitled Step Thru, dropped the day before Valentine's Day 2019.
Powered by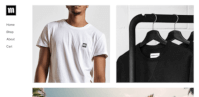 Create your own unique website with customizable templates.